BOREAL IT SOLUTIONS MANAGED CLOUD
World's Best Cloud Native Managed Services – The Choice of Developers
The enterprise cloud journey with Boreal IT Solutions is a trip taken together. We stand with our clients for the full lifecycle of their solutions. Our Managed Cloud extends to your full technology stack from the capacity to the business applications and we provide value through five types of activities. It is a full portfolio of managed services for the public cloud.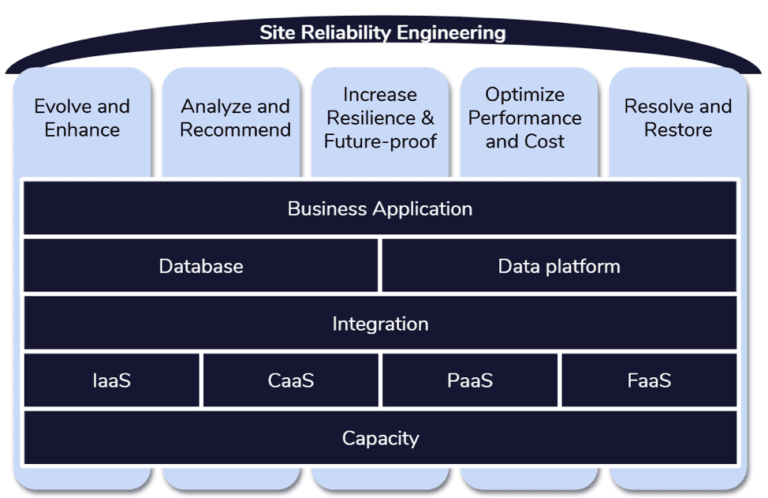 RESOLVE AND RESTORE
We monitor your assets and if any problem occurs, we find out how to get your business going again. 
OPTIMIZE PERFORMANCE AND COST
We do not only monitor the assets for functionality, but also for performance and costs enabling us to optimize the solutions and your cost base.
INCREASE RESILIENCE & FUTURE-PROOF
We continuously look for ways to improve the security and reliability of your assets and their lifecycle.
ANALYZE AND RECOMMEND
We give recommendations on areas beyond our immediate area of responsibility enabling you to improve your whole operations.
EVOLVE AND ENHANCE
We improve the setup and usage of your assets in a continuous manner.
These packages are for customers that are looking to source the hyperscaler services and support through Boreal IT Solutions with value added components from enhanced support levels and cost optimization to customized billing.
These packages are for customers looking for a partner to manage their whole landscape and environments running on top of the public.
These packages are for situations where management is needed for the full functionality of the solution including ownership of the code – be it, for example, a web application, an integration or an API solution or a data platform.
These packages are for customers looking for a cloud security partner that understands that protection of cloud assets is not an exercise in gathering more events or securing the perimeter. Instead we dive deep into the cloud platform's own tools and your most critical applications and built the security together from the inside setting up a cloud native SOC.
Originally designed by Google for running the world's largest scale solutions Site Reliability Engineering (SRE) is an implementation of DevOps that is both a philosophy underlying our way of working and also a specific way to offer our services to our customers.
In all of our work, we aim for continuous improvement, automation of toil, promoting reliability and applying software engineering to operations.
As a service, the SRE, is a way to acquire all the needed managed services from the point of view of the critical solution. It is designed for solutions where reliability is critical and the customer is also ready to change their way of working to support it. The SRE is not a new outsourcing contract. Instead of looking for an application partner, a capacity provider, a database solution, you can turn to us for the holistic Site Reliability Engineering service.